Dr. Suresh Babu M C
MD, DM, Medical Oncologist, Department of Medical Oncology,
Kidwai Memorial Institute of Oncology,
Bengaluru, Karnataka, India
Email: sureshbabumedicalonco@gmail.com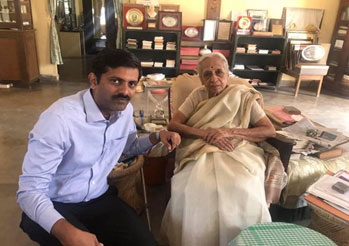 It was a regular Tuesday morning and I was seeing my OPD patients as a routine, when suddenly I came across a tragic news. It led me way back in time when I was starting my journey as a medical oncologist. It was in the year 2007 when I joined as a resident at Cancer Institute in Chennai. The institute has a name of its own when it comes to training country's finest medical oncologists.
At the Cancer Institute, I first interacted with Madam Shanta during our day-to-day rounds. We remember her as a highly intellectual, immensely dignified persona with a zeal towards oncology as a subject which is unmatched. Madam (as her students fondly addressed her) used to interact with residents about patient care. I remember reaching out to her to discuss regarding plan of treatment and to update regarding a clinical case whenever required. Madam was highly systematic and led a disciplined life.
In 2009, I happened to be the primary physician for Dr Krishnamurthy (Advisor, Cancer Institute) who happened to be a mentor to Madam Shanta. This led to me getting to know her better. With the everyday rounds, I was honored with the privilege of knowing what truly made the Cancer Institute what it is today and the pivotal role that Madam played to accomplish the same.
Madam Shanta was born in a distinguished family that included two Nobel laureates: C V Raman (grand uncle) and S Chandrashekar (uncle). Dr. V Shanta, a legend in her own, dedicated her whole life for the welfare of cancer patients. She firmly believed that every patient must be treated with the same respect and dignity irrespective of their financial wellness. Her vision was to ensure that each patient admitted to the Cancer Institute must be treated like a "VIP" patient.
Dr. Shanta first moved into the Cancer Institute in year 1954-55 which were the early years since the Institute came into existence. She had earlier joined as a Gynecologist wherein she worked at the Maternity Hospital during the day. After finishing her duty at the maternity hospital, madam used to visit the Cancer Institute. During those days there was no dedicated Oncology Department at the center. There were two nurses posted there at that time. Dr. Shanta very meticulously used to visit the Cancer Centre, see patients and put notes. Such was her dedication she used to even assist surgeries at the center. As there were limited resources with the institute during those times, she was not compensated for her esteemed services for several years at the Cancer Centre. However, Madam's belief system was based on strong values of patient centricity and welfare of cancer patients. With an astonishing career spanning over six decades Dr. Shanta established the first Pediatrics Oncology block as early as in 1960s.
During those days, cancer drugs were not manufactured in India. Since the drugs were imported from USA, Indian cancer patients had to pay twice the amount of price for each drug due to one hundred percent customs tax imposed. Madam made diligent efforts to try and resolve this but to no avail. She however never gave up. It so happened sometime in 1970s, Mr. Chavan who was then finance minister of India was on a visit to Chennai. Dr. Shanta went on to meet him at the airport and requested him to make time and visit Cancer Institute. When Mr. Chavan visited the Centre, he was greeted by children who were getting treatment for various cancers. During this visit, Madam explained to him the financial hardships and injustice levied on the Indian cancer patients due to tax on cancer drugs. Mr. Chavan was moved to see the same and eventually he was kind enough to cancel tax on cancer drugs.
Dr. Shanta was a renowned academician and loved teaching. She visited the Mayo Clinic in USA in the 1970s. After returning from Mayo clinic, she systematically organized separate medical and pediatric oncology units at the Centre. Dr Krishnamurthy was instrumental in setting up a dedicated Surgical Oncology Unit and other specialties. It was Dr. Shanta who heralded the new era of DM -Medical Oncology and M. Ch- Surgical Oncology courses in India. Madam played an integral part in building up Cancer Registry at the Cancer Institute. And because of that records of patients treated over 50 years back can also be accessed at the Cancer Institute. With her hard work and passion, Dr. Shanta transformed the future of Cancer Institute which in turn shaped the future of oncology in India. She was an exceptional teacher to scores of physicians who are Senior Medical and Pediatric Oncologists today, well respected in the Cancer care domain. Her influence and work were not limited to India alone. Acknowledging the poor prognosis of acute lymphoblastic leukemia patients, Dr. Shanta in association with Dr Magrath developed "MCP 841 protocol" which subsequently was adopted by various institutions across the world.
For her exemplary services to the nation, Dr. Shanta was awarded with several honors including Padma Shri, Padma Bhushan, Padma Vibhushan, Ramon Magsaysay and many more. Theodore Roosevelt once had said - Great thoughts speak only to the thoughtful mind, but great actions speak to all mankind." Her actions spoke to the mankind. Any number of awards could never match her service to the cancer patients and to our country. Our past president, Late Shri Abdul Kalam ji always addressed Madam respectfully as "Shanthamma". I recall an incident when Shri Manmohan Singh ji as the Prime Minister respectfully greeted Dr. Shanta all the way to her car when she visited him at PM office. Such was her stature and respect for her spectacular service to the country.
Dr. Shanta was an advocate of early detection of cancer and the need to change public perception of the disease, especially the extreme fear and hopelessness associated with cancer. Madam was particularly critical of the usage of the term "cancer" to describe a dangerous and uncontrollable situation or one of hopelessness. She wrote letters to the then president of USA and President of Punjab National Bank when they compared cancer to terrorism and corruption respectively while addressing public. She addressed media and filmmakers and cautioned them against portraying cancer in bad light which creates fear and panic amongst people. Dr. Shanta was against commercialization of cancer care and treatment. She advocated similar standards of care across all financial strata of society.
Madam treated patients till last day of her life, always eager to learn more in the cancer field. She regularly attended tumor boards. When I visited her a year ago, she discussed about new therapies in oncology like immunotherapy and other targeted therapy drugs. As I look at the file of my next patient sitting at the OPD, I recall her saying that "Suresh! You know there are more people living because of cancer than people living with it." Her words echo in my head as we all remember our dear beloved Madam Shanta.
As I hear the news that Madam is no more, it aches my heart. Legends like Madam are rare, and we are all honored to have a mentor like Dr. Shanta in our lives. We, as a country owe you a lot Madam and we shall all strive to live by your guiding principles putting patient care and welfare first.
Farewell Madam Shanta…You will remain in our hearts forever…!!!
Acknowledgement: I would like to thank Dr. Manisha Nara for helping me in completion of the article.
Courtesy - Indian Journal of Medical and Paediatric Oncology (IJMPO)
Editor-in-Chief - Dr. Padmaj Kulkarni